As with any endeavor you undertake, I found a sense of personal satisfaction in not just starting but completing the A-Z challenge. Ecclesiastes 7:8a states, something completed is better than something begun (CEV). And better I am. I decided to join the challenge on a whim after reading about it on Shannon's blog. As a newbie blogger (just started in February), I'm not exactly sure what gave me the audacity to launch out into such deep waters. But, I have found myself being open to lots of new things in this year and blogging itself is one of those.
Being a part of the challenge increased my awareness of the variety of blogs available. It was quite interesting to visit other participants' blogs to see how they would incorporate the letter of the day in their post. Many of the challengers were either professional writers or aspiring to be; therefore, splashing around at their blogs was like being a pet goldfish dumped into the ocean. Also, I discovered poets, photographers, artists, mommy bloggers, spiritual blogs, teachers and even a
Blabbin' Grammy
, who is a master storyteller. The gamut of blogs is amazing. Many I would not have found otherwise. Each time I visited one, I was exposed to new ideas, concepts, words and inspiration.
Prior to starting the challenge, I wrote down topic ideas for each letter on the calendar but I found that I didn't always go with my initial thought. For some letters, I was able to get my posts completed early, edited and scheduled to post (which is a feature I discovered). However, the inspiration for the majority of posts came the same day, which added stress initially until I came to terms that it was ok if my posts were not perfect but authentically reflected me. I found blogging, visiting other participants, commenting and replying to comments daily to be challenging along with working full-time. And I sure have a respect for those who are able to post daily or multiple times during the day. However, that is not something I plan to continue but I do see the importance of maintaining a regular posting schedule.
I don't believe I ever considered quitting but sometimes wondered if I could keep up. The things that kept me going were the determination not to be a quitter and the lovely comments I would receive from those that stopped by. To all of you who came by, I say
THANK YOU!
And a special thanks to those that dropped in consistently and left me such encouraging words. You'll never know how much of a boost of confidence and courage you've been to me. In accordance with Proverbs 11:25, I pray that just as you have refreshed me during this challenge, that you will be refreshed. Thanks to Rayna at
Coffee Rings Everywhere
who gave me my very first blog award and I will be passing it forward soon. As a newbie, I didn't know awards existed. Also, thanks to Charmaine over at
Wagging Tales
who bestowed three awards to me. I'd like to take this opportunity to pass on the Sunshine Award to a few people who have been a great support to me: Lisa @
Bombastic Bandicoot
, Bluebutterfly@
Sword of Goliath
, Ellie @
Ella's Edge
, Andrea @
Arise 2 Write
, Rae@
Porch Ponderings by Rae
, Bud@
B-E-ing Transformed
, Linda@
Whit's End
, CeCe@
Thirsty Living
and my sister, LaMecia, who always gives me words of encouragement.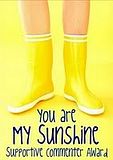 Overall I'm satisfied with my performance in the challenge. As with most things we do, there is room for improvement on my part. I wish that I had more time to dedicate to researching, writing, and editing my posts. While I tried to visit as many of the challenge participants as possible, I would have liked more time to read and comment on their posts. And I found that I gravitated to some blogs more because I found their subject matter more in line with my interests. Since my blog deals with spiritual matters, I'm sure some participants were less likely to visit. I did see an increase in the number of followers but I think it'll be interesting to see how many continue to follow and/or comment from time to time. From the experience I learned that networking among bloggers is a good means for increasing exposure of your blog and for finding other blogs you like. However, I tend to shy away from the follow me and I will follow you theory. After seeing how beneficial a comment was to me, I plan to be more disciplined about leaving comments on the blogs I read. I liked Arlee's idea of having a schedule for specific blog topics.
In closing I'd like to give our challenge host, Arlee at Tossing it Out, a big round of applause for a job well done in organizing and marketing a successful challenge that was able to unite so many bloggers across the globe. He seems to have mastered the art of blogging and blog promotion. I wish him much success in his future endeavors and look forward to reading more from him. If you have not already, be sure to visit his blog. I appreciate the opportunity to have joined the challenge with so many talented and creative bloggers.
Find out what other challenge participants had to say: