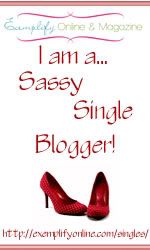 It's time for the Single, Sassy Blogger link up for April at Exemplify Online Singles. This month we're asked to share seven random things about ourselves. So here goes my list:


1. The first car I bought was purple Pontiac Sunfire.
2. I happen to be afraid of anything that creeps and/or crawls.
3. I'm a recovering perfectionist.
4. I absolutely love books and I can speed hours browsing in a bookstore. Speaking of books, my new favorite thing is swapping books via paperbackswap.
5. I love Tex-Mex food.
6. My favorite Bath & Body scent is Moonlight Path. Nothing like a nice bubble bath 🙂
7. Never thought I'd own a dog but I've been sharing my place with Bella, my furbaby I adopted from a shelter, for almost two years now.


Well that's a pretty random view of me. Find other single, sassy bloggers and join the fun here.