How often do you reconcile your bank account?
Each month the bank sends out a statement showing the activity on my current account. In between those times of receiving the bank statements, a financial prudent person is likely to keep a running tab of the deposits and withdrawals and at the end of the month they compare their check register with the bank's statement. If you're like me, you are likely to have forgotten to write all the ins and outs (it's that slider, which is what I call my debit card, that gives me the blues) but beholding that statement gives me clear picture of what has gone on for the past 30 days or so. In comparing these two documents, one works to bring them into agreement with one another to get an accurate view of their finances.
In much the same way, our lives need reconciling. I heard a man of God preach a message today yesterday about being in agreement with God and used the analogy of the bank account statement. And I certainly can't reteach his message but it definitely struck a chord with me. On a regular basis you and I should be conducting an audit of our lives. Checking to see if we are living in harmony with what God's statement says about us.
If we listen to our own thoughts, experiences and the voices of our enemy, more times than not it will show us being in the red.
| | |
| --- | --- |
| My Statement | God's Statement |
| I can't | I can do all things through Christ which strengtheneth me. Philippians 4:13 |
| I'll never get out of ______ | No, despite all these things, overwhelming victory is ours through Christ, who loved us. Romans 8:37 |
| I don't belong | To the praise of the glory of his grace, wherein he hath made us accepted in the beloved." (Ephesians 1:6) |

The only way to get our lives reconciled with God's statement is by getting into His Word and knowing what it says about every area of our lives. Our greatest reconciliation is being put back into right relationship with God through Christ but it doesn't stop with our salvation.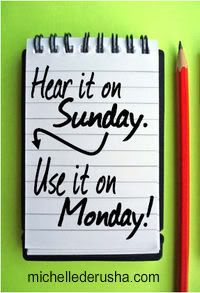 photo credit: kenteegardin via photopincc